I've been thinking about the rumored iWatch and what the design and user experience might be like. This led me to create a concept based on what I'd like to see in the device.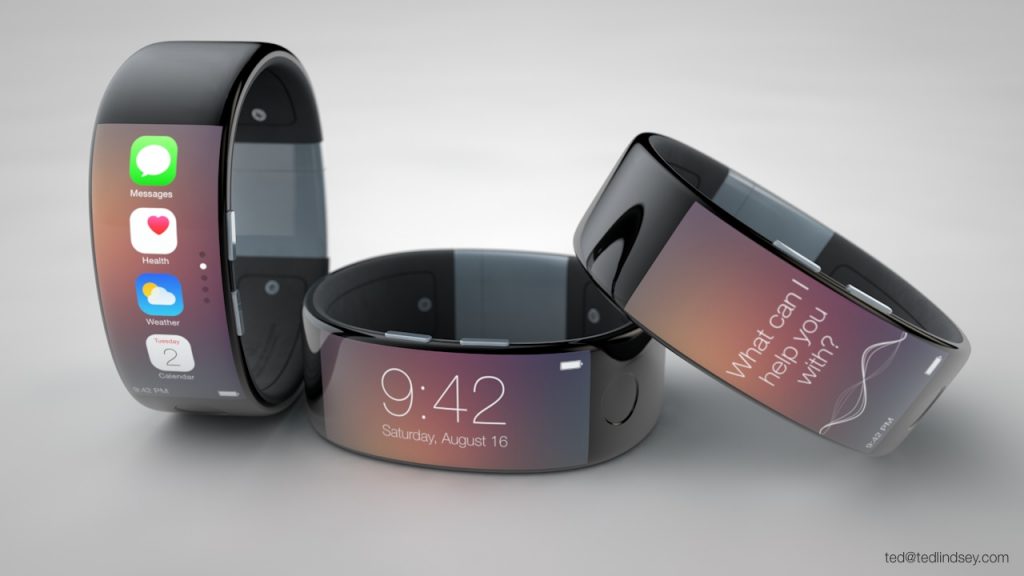 This concept is influenced by the sleek design of the Nike+ FuelBand. This type of band could provide space for the battery within the band itself. A magnetic clasp with a positive locking mechanism so that it snaps into place like a Magsafe adapter would be a classic Apple touch. Maybe different size clasps to allow for a range of wrist sizes? A glossy outer shell with a soft rubberized inner band looks great in renders, but I'm not sure how it would hold up to daily abuse.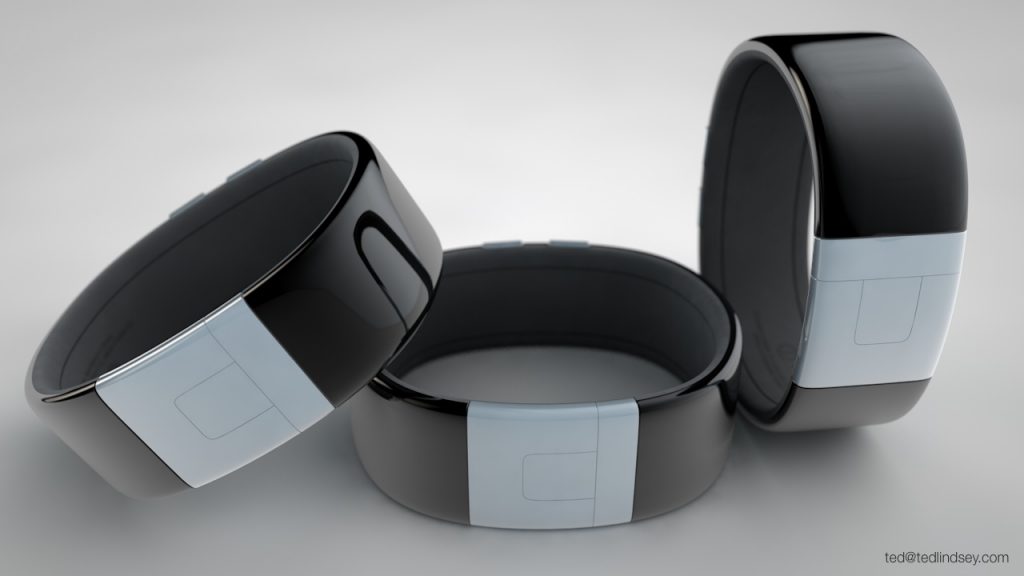 I think a Home button/Touch ID is a given and would be useful for triggering Siri or authorizing a payment via NFC with your fingerprint. Two side buttons with context sensitive functionality would make sense. In the Music player, they could function as volume controls or as Start/Stop controls in fitness apps. You could even press them together to trigger a third action such as Play/Pause. Having physical buttons on a device this size is important since you're going to want to operate it via feel on occasion.
The UI might rotate intelligently based on orientation, adopting a horizontal display for the lock screen (time display) but switching to a vertical strip when you raise your wrist towards you. Because the bottom of the display is going to be closer to the user and angled towards them, I can see the status bar being placed on the bottom and most interactions favoring the bottom portion of the screen. Looking forward to seeing what new user interactions they've created for this form factor.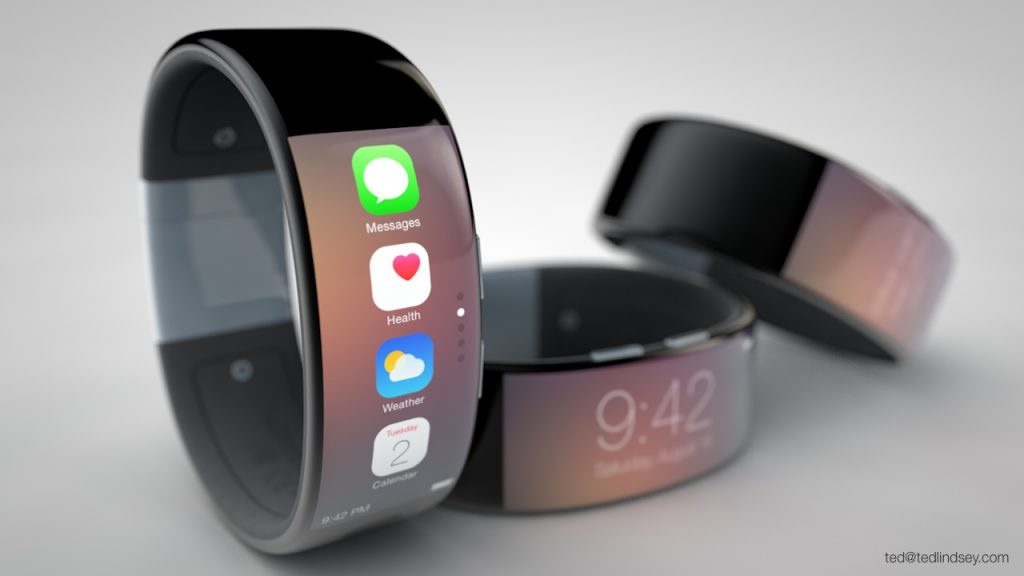 The device is going to be too small for text entry, so Siri is going to be much more important and will probably be a primary way you interact with it. Notification displays and response will be another key role for the device so you don't have to constantly pull your iPhone out of your pocket or bag. I'd love to see some physical interactions such as shaking your wrist to dismiss a notification. Or maybe these kind of gestures could be used to control external devices via HomeKit or act as a remote for your AppleTV.
This will probably be the flagship device for HealthKit and I can't wait to see what kind of sensors are included. Activity tracking is a given, but I'm eager to see if they include heart rate or even more exotic sensors. The band is the area that's most likely to have sensors in it since it's the location where the veins are closest to the surface of the skin.
I can see the device being  the user interface and "disconnected" storage for a wide range of health/fitness devices that communicate over Bluetooth 4LE. We may see the rise of an entirely new ecosystem of devices that pair with the iWatch over NFC and Bluetooth. I can envision touching your iWatch to the console of an NFC enabled treadmill and having it relay activity data directly into your iWatch to HealthKit. Or maybe a blood glucose meter, blood pressure or any number of diagnostic devices.
Wireless charging has been rumored and I'd love to see it happen. I would imagine that near-contact inductive charging is most likely although Apple may surprise us since they've made some acquisitions around this tech over the past few years. I think the Lightning connector is brilliant, but I'm not looking forward to having to plug in yet another device. Especially if the battery life is less than several days, which is probably going to be the case.
In any event, in less than a week, I hope I can look back at this post and laugh at how quaint this concept is compared to the real thing.